About B2B
Sales and digital marketing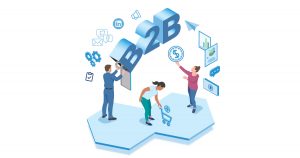 Do your sales managers have low efficiency? From insider information, do you know that competitors have a higher conversion of leads to sales? You hire cool salespeople, and they start selling in the same way as your ordinary ones? We met a number of other problems, the solution of which was the introduction of a "sales plus marketing" bundle.
In short, this is the process of strengthening the work of the salesperson due to the step-by-step impact on the point client with different marketing methodologies. Information about the client is given by the manager himself in manual or automatic mode.
The simplest example. The salesperson indicates (usually in CRM this happens automatically): I will call xxx in four days, this client's email is yyy, his Facebook account is zzz. After that, advertising campaigns are launched with retargeting for these contacts in order to "warm up" the client before the call.
There are several periods in communication between a salesperson and a client – accordingly, your actions at each stage will be different. There is no universal list, it is individual for each project, since the sales process even in one topic can be very different (offer courses as a gift, create a club for VIP clients, managers hold an average of 2.5 meetings before selling, the base is very cold, the subject very difficult, but necessary for everyone and so on). Consider two options for the most universal periods:
Before the first contact (cold client).
After the first contact.
Before first contact
In the beginning, you need to build three systems.
The first is filling the customer base. In addition to the phone number and name, it should contain as much information as possible (depending on your methodologies and type of business) that marketing can use:
Email.
Accounts in social networks. From here, automatically pull up:
1. Uploading links from a personal feed on social networks to external sites (to check the quality and draw up a media plan for information resources that your target audience reads, trusts and distributes).
2. Uploading events (to check the quality and draw up an event plan, where you were, what you missed, where your target audience is, except for narrowly thematic events).
3. Unloading friends (to check the intersection with your reference contacts and direct competitors).
Address (of residence, office, factory).
Links in the decision chain (CEO, CMO, SEO) to drive overall marketing activity.
Email open data (link clicks).
Site visits (if accounts are created on it, you were able to link the analytics CID or track sessions yourself with your CRM system).
Marketing summaries and analyzes (client assortment, number of stores, visibility of his site, brand queries, sales of your products to him, and so on).
Do not forget that adding to the database requires the consent of the client.
How to use the information? There will be a few examples in the article, but in fact, there are a lot of options for direct marketing.
The second system is the automation of the salesperson's work with the database. To launch "to the first call" marketing, you need to understand when it will happen as planned, which means that the salesperson must make calls to those whom you "warmed up". Therefore, you must interact with one tool.
Usually this is a CRM system with automatic tasks for managers. The APIs of most popular solutions allow you to implement this through a laying server in which you configure the process.
The third system is marketing itself (not only digital in this list). How can you "warm up" the client?
Retargeting. In the CCM, Yandex partners, social networks, AdRiver, teasers, internal systems. There may be branding solutions (first of all, the goal of recognition is set), as well as informational or educational messages.
Email mailing list (if there was a reason to receive letters, for example, collecting business cards at an exhibition).
Offline letters to office addresses (preferably viral, not spam).
Handout local materials (refers mainly to office services and to the study of the priority base on a local basis).
Local offline advertising (this is relevant for large tenders and small players. Place several of your billboards near a potential client, let him be interested in you).
Invitations to events in which your manager participates as a speaker.
Educational courses.
What matters here is not how to deliver information (promotion methods), but what message you want to convey. Standard goals for this process:
Increase brand awareness (introduce the client to it often).
Deliver a unique selling proposition.
Show the client non-obvious problems with guiding questions.
Provide solutions to problems.
Get cases and reviews, improve your reputation.
Get the contacts of the decision maker.
Bring the client out of a state of rest (this goal is the main one in 90% of cases, because we are talking about cold calls). Show that everything is much better than it is now.
Usually, separate settlements are created for these purposes.
face-to-face pages and promotional materials. Chains of interactions are being built in digital (we spin some messages for a week, then others).
How warm can a client be? Often he becomes "hot" and calls himself, but this is ordinary marketing, we are talking about a connection with sales. From our experience, the efficiency of work on heated clients can increase significantly. One problem is that you can never cover 100% of the base. Usually it is 5-50% depending on the motivation of managers and topics. The main plus is that if you set up the process once, then its support and improvements are quite cheap.
After the first contact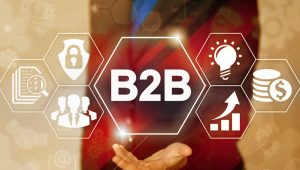 Between acquaintance and sale there is always a period of the most heated communication. You generate a number of documents, train the client, build a system of trust in you. Why not bring marketing to your aid in these matters? Amplify each action of the salesperson and teach him to act in such a way as to use the amplification.
Examples of solutions in digital marketing (both promotion methods and messages):
Build a chain of newsletters.
Create a dealer store and give access to it.
Use methods to promote goods (discounts, promotions, burning bonuses).
Invite to visit: nothing is more stimulating than the sight of the plant's facilities.
Introduce to the team or clients.
Reveal your successes and plans.
Show your goals and mission.
Give demo access.
Offer checklists.
Open access to closed groups, forums.
Get the opportunity to start with a 100% guarantee (for example, post-payment, dropshipping, free first month).
Use digital as an atypical method for building connections (on the one hand, to collect information about a person, and on the other, as an opportunity for easier communication).
What else to remember
Don't forget that online marketing allows you to follow a person's actions on your site through sessions. Connect BigData to this process, and you will be able to say with an accuracy of 80-90% which clients are cold (C-type) and do not require investment of money and time. Use message options for them: "bring a friend and get a CPA bonus", "order a mini-version or a one-time service", "we recommend that you contact this or that, here is a checklist that will help you control the work", and so on.
You will know who should not be offered discounts (hot buyers), and who should be warmed up so that the deal does not fall through. Saving salespeople time to invest in potential customers is a big plus in conversion rates.
Salespeople need to be aware of all your amps if you want to get the best results. Try to put messages in their conversation scripts, participate in lectures, transparently show performance, involve in brainstorms and control whether they use it (listen to calls).
Together with the commercial director, participate in the creation of sales reports, analyze them and compare them with the basic planned models. Make decisions about the inoperability of the method as quickly as possible (if 50-100 uses do not give a correlation, then the method is bad).
A separate area of ​​the link between sales and marketing is the exchange of information. You are running a promotion, which means your salespeople should know about it. We have planned an advertising campaign for a group of products – do not forget to notify the sales department in advance and inform customers (it is convenient to do this using a dealer store, email newsletters, remarketing banners). The reverse flow of information is no less important: get customer wishes from salespeople, solve their problems, build a product according to needs, and not in the way that seems convenient to you, work in conjunction.
Design and UI/UX messaging is critical. Even the best logical solution can be completely broken due to poor implementation. There may be a lot of content, but this is the place where you pay once and then make a profit for years, so it is worth inviting good editors, buying resources of great designers, making expensive videos.
Whether it is worth introducing a system to increase sales through digital marketing is a rhetorical question. In our experience, for B2B topics, it gives a fairly quick return on investment, and most importantly, it makes it possible to compete for more expensive customer segments. The profit of a single conversion is significant, so you can spend more resources on its optimization. This is one of the key steps on the way to the top 1 in B2B topics, because the increase in conversions also means an increase in the marketing budget by increasing the maximum ROMI, and all marketers love this.
3. Dealer shop (pitfalls)
Are you tired of maintaining an accounting system for all dealers in 1C, which slows down and is not flexible in external communication solutions? Every day, managers spend a lot of time generating reports for clients, answering the questions: "how much will it cost", "what is my bonus", "how much did I buy from you last month"? Are your marketing messages not reaching customers through sales representatives? Are sales salaries higher than the marketing budget?