B2B marketing
Salespeople Time Wasted
Do you have a normalized time for communication on orders? You know how much time your reps spend on pre-orders, how much they spend explaining marketing messages, and how well they manage to teach the buyer how to sell your products. If this is not work in the field, but sales by phone, how much time is spent on tracking availability, uploading the necessary price lists, "telephone pre-orders".
The problem is that your managers are wasting their time on things that don't increase profits. Instead of building close loyal communication, training and assistance, they are forced to solve only work issues. Accordingly, customers do not know about your marketing.
Communicate marketing to customers:
Build informing customers with the data they need.
send them emails in advance;
make pages in the dealer store with a detailed description of the promotions;
inform about planned advertising campaigns;
Recommend those products that they can sell;
add courses "how to sell your products" directly on the site;
answer questions;
implement what customers ask for;
tell us about upcoming events with your participation;
offer promotional products;
consider instead of your partners how much money they have left to spend before a new discount or bonus;
create a closed group for account holders in your dealer store;
describe the product in a non-selling text for online customers, but highlight three or four USPs in comparison with competitors (you can use them directly, because this is classified information), so that in the store your client knows what to answer the buyers question: "What is xxx different from yyy".
Increase CLV and Analysis
The toolkit itself is not much different from that in ordinary online stores. If you know how to build working schemes in B2C, then they work and track even better at a dealer store: in addition to a person's session, you know his name, where he lives, what company he has, and so on. Any hypothesis and its implementation are tested quickly and inexpensively.
Several options to understand what we are talking about:
Display similar products (or analogues if the product is out of stock).
Prompt the buyer for goods that are sold in his region or by partners with similar personal data (for example, stalls). Prompt for which products will be advertising campaigns in a week, offer to add new items "for testing" to the order.
Prepare selections for old orders with a certain cyclicity (with a reminder by email).
If the cart was filled, but the order did not occur, remind them by remarketing and email.
Build behavior models "Get xxx – get yyy as a gift with the order."
Correctly analyze the discount program (I recommend getting rid of the standard turnover of money and becoming attached to the profit from the client). Highlight those products where your margin is higher.
Share with your customers the results of your marketing research and product group plans – this makes you an expert.
Help with logistics — count right on the page how many goods will fit in a box or on a pallet.
Enter ratings (add gamification).
Consider the costs per client (extra logistics, the number of contacts per period, the complexity of communication, the cost of promotion for sales). Add this information to your dealer account: it will help you see real customer value metrics.
If you see that customer sales are sagging compared to last year, try to find out what happened right in the dealer's office.
Feel free to communicate with the dealer, ask optional questions, ask for advice. People love to be involved and influential, even if it only seems to them.
You must become comfortable
Solve not only your problems (and count not only your profits). Saving customer time is just as important as saving your resources. If you want to save yourself 10% of your cost per hour per customer, get ready to churn. People know how to count and save their time. Don't think that you are smarter than them.
In order for your tool to be used, you need to make it very convenient. Don't spare resources for testing and UI/UX structuring.
Put in the engine a maximum of useful functions for customers, and not just your profit.
Customer loyalty
You work with this indicator offline: ask questions about service, conduct other surveys, implement scripts for managers' conversations, send congratulations to customers, make discounts on birthdays, say how much you love and appreciate customers, reward the best "non-discount" buns; if there is a problem, the boss calls. So implement it all in the store through the online functionality.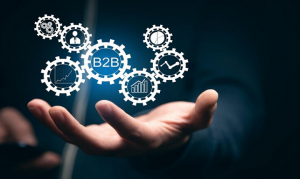 Help customers sell
There are several implementation levels:
Let the dealer store be used as a franchise project (usually this is used at the level of new countries, but there were options for current dealers).
Implement tools to promote your business – for example, send letters to your customer base, get seasonal statistics,see media plans for product groups, request regional advertising or promotional materials, provide the necessary calculators in one place.
Sell ​​what people will buy with a full range of boosters. Tell customers which products are right for them, teach them how to sell in courses, give them a handout if they need it. Offer "sales" stands, give samples, take guarantees on yourself, if appropriate. Try to be one step ahead of the competition, but count the risks correctly ("bullets first, then cores" according to Collins) – experiment.
I will consider a few more global options for helping partners in the second article.
How much money can the right dealership make? It is difficult to answer: everything is very specific and depends on many factors. You can halve the number of your sales representatives, or, conversely, not fire anyone, but increase sales through a more human approach to customers.
In any case, this tool gives your marketers a free hand: all those goodies that they read and heard about, but could not implement offline, can now be actively offered to customers and make a profit on it. Stop wasting resources on the transmission of information that can be transmitted electronically.